Get ready to indulge in this mouth-watering Spicy Basil Thai Pasta recipe – try it now and impress your friends and family!
Thai is one of my favorite foods. The spice is unlike any other, spicy but with a lot of flavor. Thai pasta doesn't require a lot of sauce which I like. This pasta is a very easy recipe to make as long as you boil the noodles right! Any extra time may make them mushy. It is a nice way to spice up the dinner table during the week.
CookEatDelicious Rating: Once again it is a cinch to cook and delicious to eat! Try it and let me know what you think.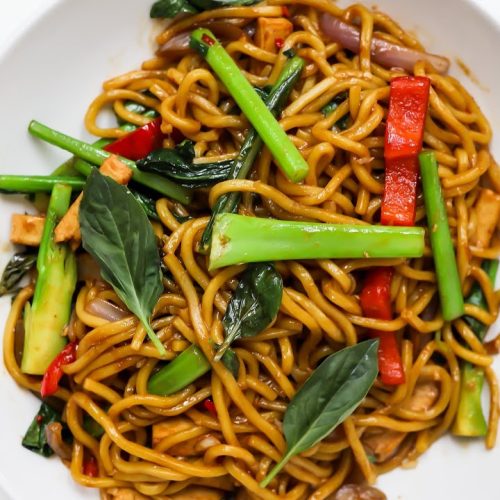 Spicy Basil Thai Pasta
If you are looking for a delicious, spicy, and easy-to-make meal, then look no further than Spicy Basil Thai Pasta. This dish is packed with flavor and is sure to be a hit with your family or guests.
Ingredients
1

pack of Thai noodles

2

Bell Peppers

red & green cut into strips

2

chicken breasts cut up
Sauce:
2

Tbsp

vegetable Oil

2

Tbsp

white Onion

finely chopped

2

tsp

minced Garlic

2

tsp

minced Ginge

½

cup

chicken Stock

2-4

Tbsp

Asian garlic-chile sauce

2

Tbsp.

Soy sauce

2

tsp

Fish sauce

2

Tbsp

Sugar

1

bunch

Basil

fresh

2

tsp

Cornstarch dissolved in 1 Tbsp water.
Instructions
PREPARE SAUCE FIRST: Heat vegetable oil in a medium pot over medium-high heat.

Add onion, garlic, ginger and cook until tender.

Add chicken stock, Asian garlic-chile sauce, soy sauce, and fish sauce and bring to a boil.

Add sugar and stir until dissolved, about 1 minute.

Add chopped basil and cornstarch dissolved in water.

Continue to cook until slightly thickened.

Take off heat and set aside.

Boil pasta for 3 minutes.

Once the time is up place in strainer and run cool water over it and set aside.

Saute cut up chicken in skillet.

Add the strips of bell peppers and saute until desired crunch or tenderness.

Add noodles and toss.

Add Sauce and Serve.
Notes
Spicy Basil Thai Pasta Is A Delicious And Easy-To-Make Dish That Can Be Tailored To Your Tastes And Preferences. With The Right Ingredients, Steps, Tips, And Variations, You Can Make A Delicious Meal That Will Please Any Palate. So Don't Hesitate To Give This Recipe A Try - You Won't Regret It! Now Go Ahead And Start Cooking!
Nutrition
Serving:
1
serving
Calories:
264
kcal
Carbohydrates:
15
g
Protein:
27
g
Fat:
10
g
Saturated Fat:
2
g
Polyunsaturated Fat:
5
g
Monounsaturated Fat:
3
g
Trans Fat:
0.1
g
Cholesterol:
73
mg
Sodium:
826
mg
Potassium:
632
mg
Fiber:
2
g
Sugar:
10
g
Vitamin A:
2004
IU
Vitamin C:
79
mg
Calcium:
22
mg
Iron:
1
mg
Steps For Making Spicy Basil Thai Pasta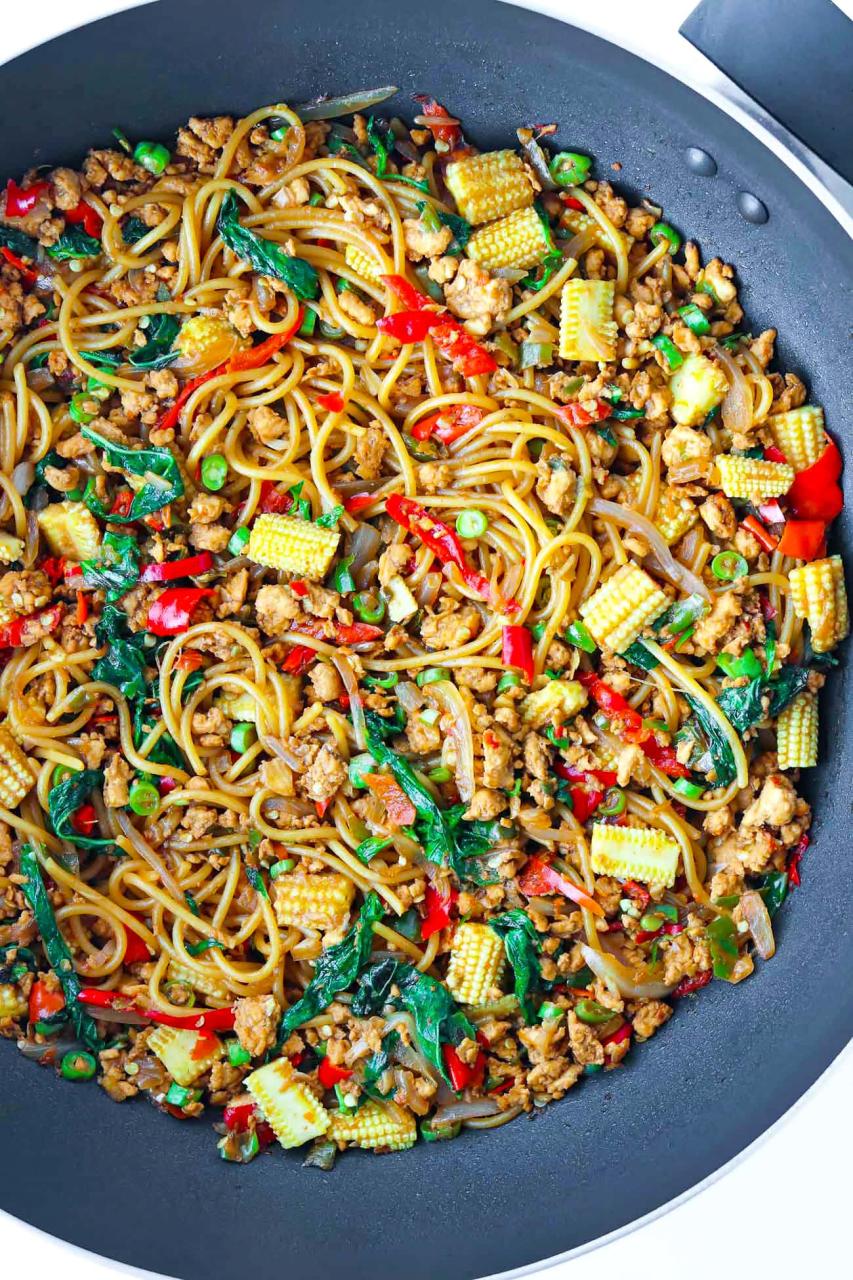 Are you looking for a delicious and spicy pasta dish? Look no further than Thai pasta. This dish is typically made with rice noodles, but you can also use spaghetti or any other type of noodle. Below, we will outline the steps necessary to make this dish perfect.
First, choose the right noodles for the dish. If you're using rice noodles, you'll need to cook them in water before adding them to the sauce. If you're using spaghetti or another type of noodle, simply boiling them in salted water is sufficient. Once the noodles are cooked, add them to the marinade and let it soak for about 10 minutes.
Next, prepare your ingredients like onion, garlic, chilies, and basil. You can either saute these vegetables in a pan with some oil or use a pre-made marinade like soy sauce fish sauce lime juice sugar blend. Once these vegetables are cooked through, add them to the sauce along with the basil leaves or cilantro and simmer until all of the flavors have melded together. Serve hot topped with freshly ground pepper flakes if desired!
Tips For Perfecting Spicy Basil Thai Pasta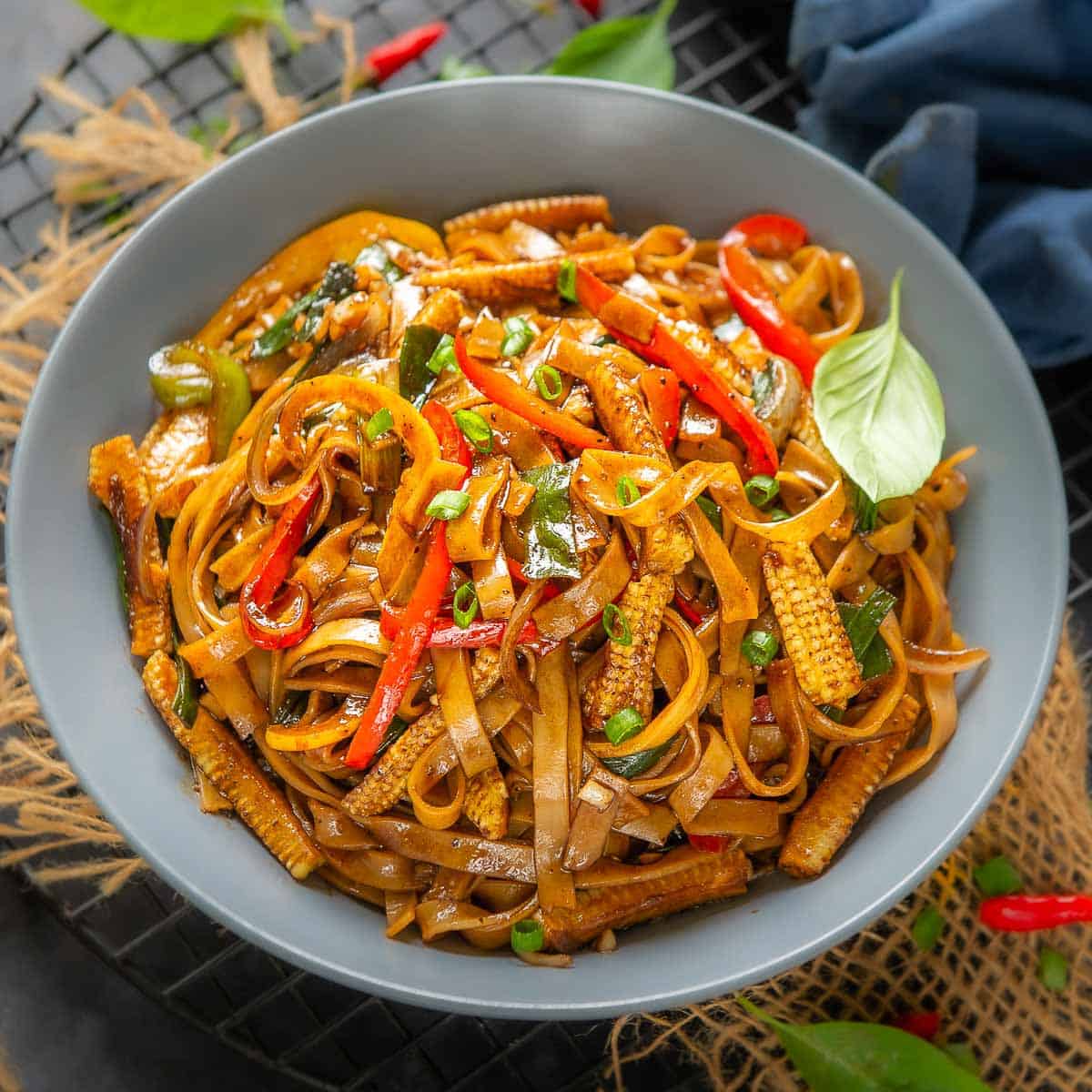 There's nothing like a good pasta dish, and this Spicy Basil Thai Pasta Recipe is no exception. It's easy to make, it's delicious, and it can be served in many different ways. Below, we'll outline the steps that you need to take in order to create a perfect meal.
First, gather all of the necessary ingredients. This recipe calls for penne pasta, garlic, green onions (scallions), ginger, fish sauce (nam pla), rice vinegar, and sugar. Once you have all of the ingredients ready, begin by cooking the pasta according to package directions. Once the pasta is cooked through, add the garlic cloves and green onions (scallions) to the pot and sauté until they're tender. Next add in the ginger and fish sauce (nam pla) and continue to cook for another minute or two until everything is fragrant.
Now it's time to combine everything together into a delicious Thai basil pasta dish! Start by stirring in half of the rice vinegar before adding in the remaining rice vinegar gradually until everything is evenly mixed together. Finally stir in the sugar until it's melted into the sauce. Serve hot garnished with chopped fresh basil leaves or jalapeños if desired!
FAQs about the Spicy Basil Thai Pasta recipe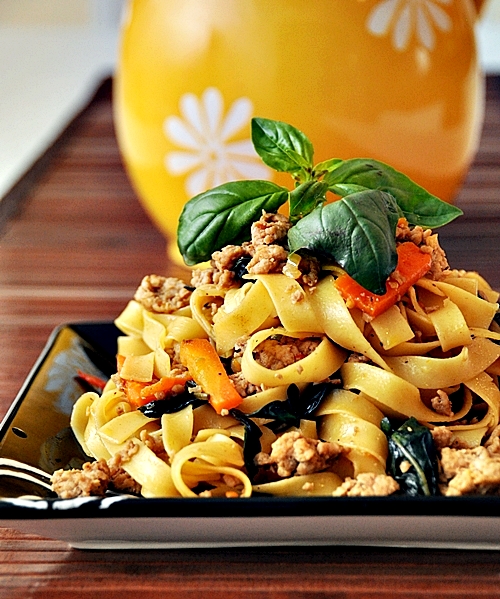 1. What type of pasta should I use for this recipe?
You can use any type of pasta for this recipe, but we recommend using a long, thin pasta such as spaghetti or linguine.
2. Can I make the sauce ahead of time?
Yes, you can make the sauce ahead of time and store it in the fridge for up to 3 days.
3. How can I make this recipe vegan?
To make this recipe vegan, simply substitute the chicken for tofu or another plant-based protein. You can also omit the fish sauce if you want to make it completely dairy-free and vegan.
4. I don't like spice, can I make this recipe without the chili peppers?
Yes, you can make this recipe without the chili peppers if you don't like spice. Just omit them from the recipe and the sauce will still be flavorful.