Bake the perfect lemon debutante cake with our step-by-step guide; try it out today and impress your friends and family!
I love anything lemon. Tea, cupcakes, pies, puddings, pasta, curd, cookies, bread, anything. But my all time favorite is a layered lemon cake. YUM! So last time we were home in the San Francisco Bay Area I just had to go to Miette. This is a delicious smelling bakery with every cake, cookie, and confection you want! I ordered the Lemon Debutante, doesn't that just sound grand?! Here is their description:
The Debutante has three layers of sponge cake infused with tart lemon syrup, filled with lemon curd, and frosted with light lemony buttercream. With perfectly smooth frosting and delicate piping, this cake is our most turned out; thus we call it the Debutante. You will enjoy the fresh lemon flavor and the silky smooth buttercream frosting as much as you will appreciate the attention to detail that goes into each cake.
It just sounded so good that I had to have it. I picked it up early so that I could eat it that night for dinner. The one I received has 4 layers of cake instead of 3. Although Miette says it is their most turned out cake, I doubt I will ever order it again. The 'sponge cake' was dry and didn't have a fresh lemon taste at all. The buttercream was silky smooth but felt like it contained too much butter, eating it was cloying. I thought maybe it was just me so I shared it with my family. Same consensus. Nobody could believe that it came from such a well known bakery as Miette. So if you are craving a Layered Lemon Cake, skip Miette and check out Cook Eat Delicious's fantastic easy recipe after the jump!
Lemon Debutante Cake
Are you ready to bake the perfect lemon debutante cake? If you're looking for a showstopping cake that will impress your friends and family, then you've come to the right place. In this blog post, we'll give you a step-by-step guide to baking the perfect lemon debutante cake. From the ingredients you'll need to tips for making the perfect lemon debutante cake, frosting options, serving suggestions, and storage and leftovers tips, this blog post will give you everything you need to know to make the most of your lemon debutante cake.
Ingredients
Lemon Cake
3

cups

Cake Flour

2½

tsp

Baking Powder

½

tsp

Salt

2

sticks of unsalted Butter

softened

1¾

cups

white Sugar

4

Eggs

room temperature

4

tsp

Lemon Zest

⅓

cup

fresh Lemon juice

½

cup

milk
Lemon Curd
8

Egg Yolks

1¼

cups

white Sugar

3

tsp

Lemon Zest

1

cup

fresh Lemon juice

1

stick Butter

½

tsp

Salt
Lemon Cream Cheese Filling
1½

cup

Heavy Cream

8

oz

Cream Cheese

softened

1

tsp

Vanilla

1

cup

Lemon Curd
Swiss Meringue Lemon Buttercream
1

cup

white Sugar

4

Egg Whites

3

sticks unsalted Butter

softened

⅓

cup

fresh Lemon juice

1

tsp

Vanilla
Instructions
Cake:
Preheat oven to 350 degrees F. Lightly grease & flour two 9 inch round cake pans. In a medium bowl sift together the cake flour, baking powder, and salt. In a large bowl, beat butter on medium speed for one minute. Add in sugar and beat at high speed for 3 minutes. Add in eggs, mixing until well blended. Add in lemon zest and lemon juice. Reduce speed to low and add in the flour mixture and milk, alternating with both starting and ending with the flour mixture. Divide batter evenly into cake pans, smooth tops with a spatula. Bake for 23-26 minutes or until toothpick comes out clean. Cool cakes on a wire rack for 15 minutes. Invert both cakes onto a wire rack and cool completely.
Lemon Curd:
Set a fine mesh sieve over a medium bowl. In a saucepan, whisk together egg yolks and sugar until blended. Turn on heat to medium and whisk in lemon zest, lemon juice, salt, and butter. Whisk constantly for 8-10 minutes or until mixture greatly thickens. Do not let it come to a boil because it will curdle and be ruined. Immediately pour the mixture through the sieve, pressing it through with a rubber spatula. Set the hot lemon mixture bowl in a larger bowl filled partway with ice water. Do not splash water into lemon mixture. Whisk the lemon curd frequently for 15 minutes or until slightly chilled. Cover curd with plastic wrap and refrigerate.
Lemon Cream Cheese Filling:
In a large bowl, electric mix on high speed the Heavy Cream until firm peaks form. Place in a smaller bowl and refrigerate. Place softened cream cheese in the same large bowl and electric mix on medium speed for 2 minutes. Change to low speed and add vanilla and lemon curd, combine well. Gently fold in whipped cream with a spatula.
Swiss Meringue Lemon Buttercream:
In a double boiler, whisk sugar and egg whites for 3 minutes over heat. Pour into a large bowl and electric mix the egg mixture on medium speed for 5 minutes. Add in butter, one stick at a time, mixing until smooth. Turn mixer to high speed and mix for 8 minutes. Turn mixer to medium speed and add in lemon juice and vanilla. Set aside until ready to use.
Assemble the Cake:
Using a long sharp serrated knife, slice each round cake horizontally in half. If the sides are to firm, cut them off and even the tops to that each layer is even. Place first layer, cut side up, on cake dish and top with Lemon Cream Cheese Filling, spreading evenly. Refrigerate for 6 minutes or until the filling is a bit firm. Add on next layer, top with Lemon Cream Cheese Filling, spreading evenly, and refrigerate for 6 minutes or until filling is firm. Repeat for third layer. Top with last layer, cut side down. Lightly frost the sides and top of cake with the Swiss Meringue Buttercream. Place in the refrigerator for 10 minutes or until the light layer is firm. This helps frost the cake more smoothly and leaves out crumbs. Frost and decorate the rest of the cake using the remaining Swiss Meringue Buttercream. Serve immediately or refrigerate the whole cake. Let stand at room temperature for 30-45 minutes before serving.
Notes
This Lemon Debutante Cake is the perfect way to celebrate any event! With its fluffy, moist texture and delightful lemon flavor, it is sure to be a hit with everyone. Follow the step-by-step instructions for easy preparation, as well as tips for making the perfect cake. Choose from frosting options and serve it up with decorations and serving suggestions. Finally, make the most of your cake with storage and leftovers tips. So, why wait? Get baking today!
Nutrition
Serving:
8
slices
Calories:
1027
kcal
Carbohydrates:
159
g
Protein:
17
g
Fat:
38
g
Saturated Fat:
21
g
Polyunsaturated Fat:
3
g
Monounsaturated Fat:
10
g
Trans Fat:
0.1
g
Cholesterol:
358
mg
Sodium:
685
mg
Potassium:
283
mg
Fiber:
2
g
Sugar:
122
g
Vitamin A:
1460
IU
Vitamin C:
22
mg
Calcium:
200
mg
Iron:
2
mg
Tips For Making The Perfect Lemon Debutante Cake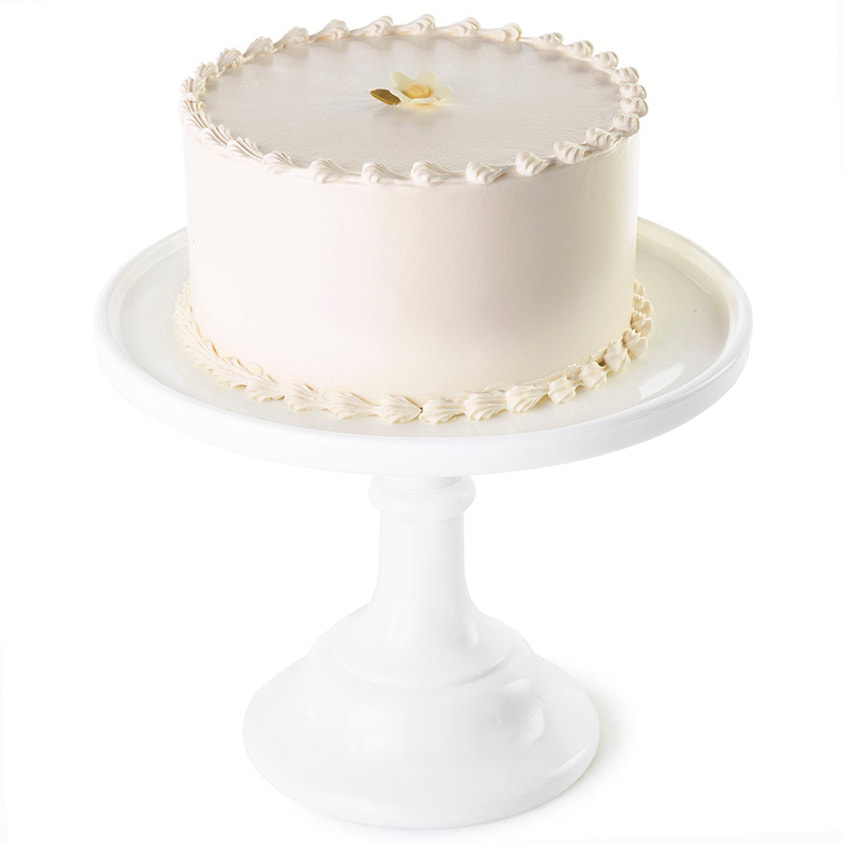 When it comes to lemon desserts, there is no one better than a classic Lemon Debutante Cake. This delicious cake is perfect for special occasions, such as weddings or birthdays, and it can be made in just a few simple steps. Follow these tips to make the perfect cake every time.
First, choose a good quality lemon for zest and juice. Lems are tart and have a delicate flavor that makes them ideal for this cake. Make sure to remove all of the zest from the lemon before juicing it – this will give your cake the optimal flavor profile.
Next, sift your dry ingredients together carefully before mixing them into the wet ingredients in your mixer bowl. Don't overmix – you want the batter to be light and fluffy.
Finally, prepare your pan by spraying it with cooking spray and then lining it with parchment paper or a silicone baking mat. Make sure that the pan is evenly heated before adding the batter – using an incorrect pan size will result in uneven baking or even burning on top of your cake!
Once you've mixed everything together correctly, put the batter into the prepared pan and bake on preheated oven at 350 degrees Fahrenheit for 30-35 minutes until a toothpick inserted into center comes out clean (the toothpick should come out nearly clean but with some crumbs attached). Allow your Lemon Debutante Cake to cool completely before frosting or serving. For ultimate presentation, frosting can be finished just prior to serving by using an electric mixer on low speed followed by medium speed until smooth.(or use an icing gun). Lastly, cut slices and serve chilled!
Frosting Options For Your Lemon Debutante Cake
No matter your style, there is a frosting option for your lemon Debutante Cake. Whether you're looking for a classic buttercream or cream cheese frosting, or something in between, we've got you covered. Plus, if fresh berries aren't your thing, consider just placing them around the cake instead.
For an extra special touch, add a light glaze to the top of the cake with fresh lemon juice and sugar.
For an extra indulgent treat, make a high sugar icing that is thicker than the glaze option.
Last but not least, top the cake with meringue – it's light and airy enough to be edible but still decadent enough to impress your guests!
If you'd like to add some extra flavor and texture to your cake, consider embellishing it with edible flowers or other decorations of your choice.
Finally, dust it with powdered sugar for that sweet classic look.
No matter what you choose for your lemon Debutante Cake recipe – we have everything you need right here at The Baking Blog!
Serving Suggestions And Decoration Ideas
Serve your guests a delicious Lemon Debutante Cake recipe this holiday season! This delicious cake is a real show-stopper, and it's easy to prepare. Follow our step by step procedures below and you'll be good to go.
Different variations of the Lemon Debutante Cake recipe are possible, so be sure to experiment for the perfect result. We recommend serving the cake with a traditional cream cheese frosting or a citrus glaze. For decoration, we suggest using edible flowers, fruit slices, or nuts. Be creative and enjoy playing around with different toppings and cake design ideas. We hope you enjoy this festive treat as much as we do!
When it comes to presentation, always aim for elegant simplicity when serving cakes. Place the cake on a nice round plate or bowl – nothing too fancy! Finally, we recommend plating and displaying your finished product in an attractive way. Our top tips include using colorful linens and incorporating interesting lighting effects into your setting. When you serve up this yummy masterpiece, everyone will be impressed!
Storage And Leftovers Tips To Make The Most Of Your Lemon Debutante Cake
When It Comes To Baking A Delicious Lemon Debutante Cake, There Are A Few Key Steps That You Need To Take To Ensure That The Cake Tastes Just Like The Ones You Get In Restaurants. Following These Tips Will Ensure That Your Cake Is Perfect Every Time.
First, Make Sure To Add Lemon Zest To The Batter – This Will Give It That Authentic Flavour And Appearance. Next, Bake The Cake At The Right Temperature – Too Low Of A Temperature And The Cake Will Be Dry And Tasteless, While Too High Of A Temperature Can Cause It To Overcook Or Become Burnt. Finally, Finish Off Your Lemon Debutante Cake With Fresh Whipped Cream Or Icing – These Simple Touches Can Make All The Difference In Making Your Cake Taste As Good As It Looks.
Of Course, Nothing Is Better Than Enjoying A Slice Of Lemon Debutante Cake On Its Own. However, Don't Forget About Leftovers! You Can Enjoy This Delicious Dessert Either Cold Or Warm As Desired. In Addition, You Can Also Use Lemon Debutante Cake As Part Of Trifle Or Tartlets Recipes For An Extra Special Treat. And Finally, If You're Ever Feeling Creative (Or Just Want To Show Off Your Culinary Skills), Try Out Some Decorations For Your Cake Such As Fresh Berries Or Chocolate Shavings. There's No Wrong Way To Enjoy This Exquisite Dessert!