Elevate your dining experience with a classic Smoked Salmon Spreads recipe that is sure to dazzle your guests – click here to find out more!
I love relaxing with a glass of wine and some cheese & crackers. It is a great way to end an evening at home. Cheese & crackers are excellent for a snack, a light meal, and even to serve for an appetizer. This is a super easy recipe for those occasions.
Smoked salmon is so smooth to your palate. I love the flavor & texture. So this spread is one of my favorite with crackers. It is light and perfect for any occasion. I have to be careful because I tend to overeat it!
Cook Eat Delicious Rating: Again, simple. Super Delicious. I will make it again for sure!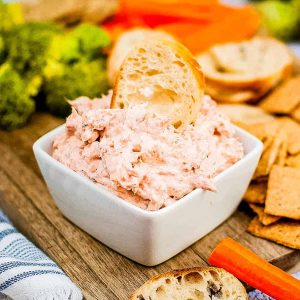 Smoked Salmon Spreads
Are you looking for an appetizer that will wow your guests? Then look no further than smoked salmon spreads! This classic recipe has been around for centuries, and with just a few tweaks, you can make it your own.
Ingredients
1

pack

softened cream cheese

2

tbsp

cream

1

bundle

chives

1

pack

smoked salmon

A squirt of lemon and a dash of salt
Instructions
Whip cream cheese and heavy cream together.

Fold in the rest of the ingredients nicely and serve on crackers.
Notes
Delicious on crackers, toast, bagels, or fruit.
Smoked salmon is a classic and delicious appetizer that can be served in various ways. Whether you go with a traditional smoked salmon spread or try something new, like a flavor variation, your guests will love the unique presentation and taste. With the right drink pairing to complement it, your smoked salmon appetizer will be sure to dazzle! So why not give it a try? Get creative and explore different recipes; you just might surprise yourself with how delicious it can be.
Nutrition
Serving:
1
serving
Calories:
634
kcal
Carbohydrates:
6
g
Protein:
43
g
Fat:
49
g
Saturated Fat:
26
g
Polyunsaturated Fat:
4
g
Monounsaturated Fat:
14
g
Cholesterol:
166
mg
Sodium:
1843
mg
Potassium:
494
mg
Fiber:
0.03
g
Sugar:
4
g
Vitamin A:
1800
IU
Vitamin C:
1
mg
Calcium:
125
mg
Iron:
2
mg
What To Serve With A Smoked Salmon Spread Appetizer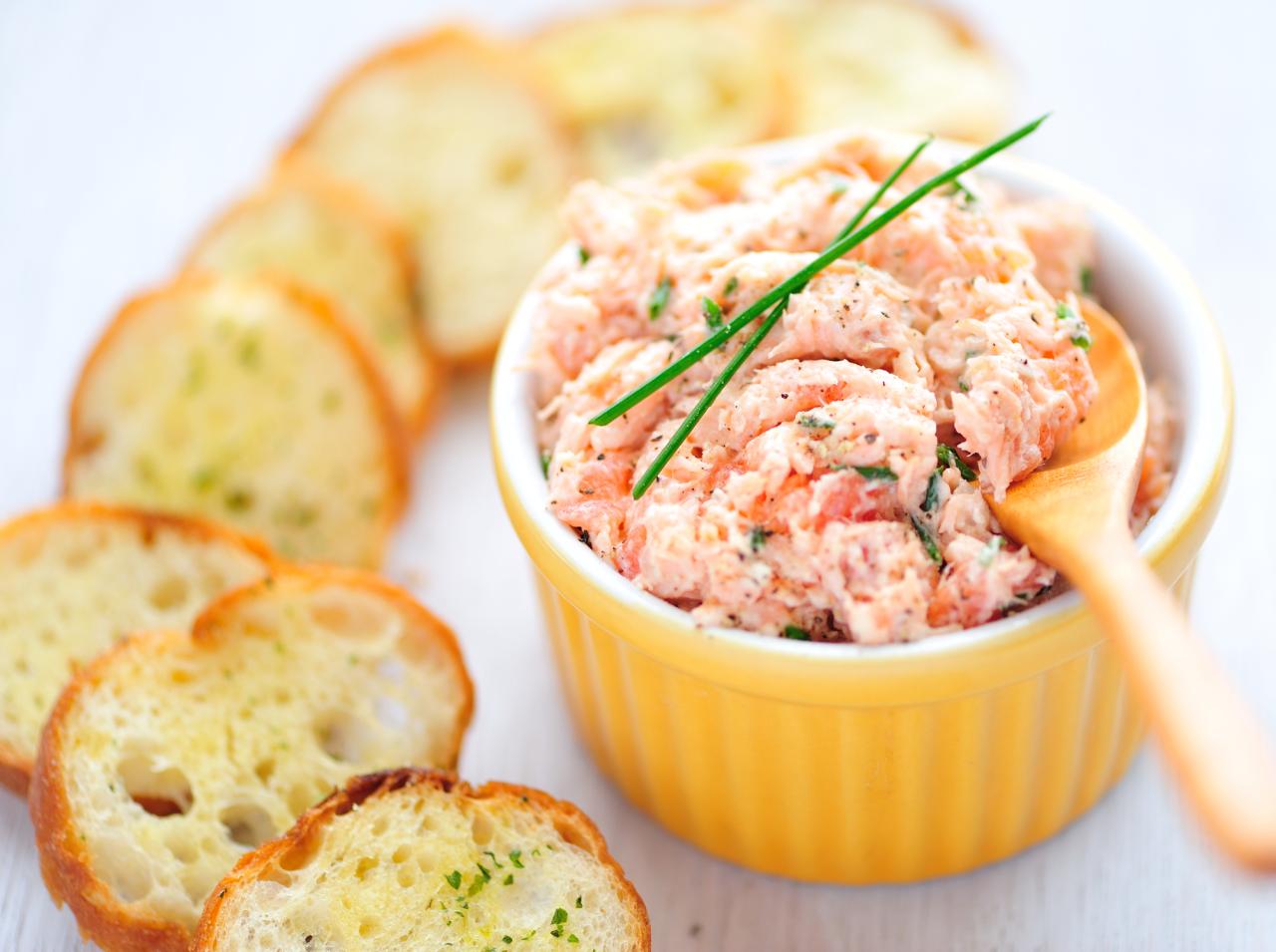 When it comes to appetizers, smoked salmon is a perennial favorite. It's delicious and versatile, making it the perfect choice for any occasion. Whether you're serving it as a spread on bread or crackers or as an accompaniment to a dish, smoked salmon has a lot of potential in the appetizer world. In this section, we'll outline some tips on selecting good smoked salmon and give some ideas for how to use it in different ways.
First and foremost, make sure that you're getting quality smoked salmon. Not all smoked salmon is created equal – some may be less flavorful or have less texture than others. When selecting your smoked salmon, be sure to look for brands that you trust and try samples before making a purchase.
In addition to being delicious on its own, smoked salmon can also be used as an appetizer toppings for other dishes. Try putting it on top of creamy hummus or tzatziki sauce for a unique flavor combination that your guests will love. You can also mix it with diced tomatoes and green onions for an easy salad presentation. Or try spreading it on croissants or bagels with cream cheese and chopped red onions for an irresistible breakfast option!
Chef Techniques:
Presentation is key when serving any dish – no matter how simple or complex it may be. When serving smoked salmon as an appetizer, make sure that your presentation is eye-catching and appealing enough so that your guests will want to try it. Try using different colors of food dye or spices to add depth of color and complexity to your spread while still keeping things simple enough that everyone can follow along easily. And don't forget about textures – adding crunchy nuts, raisins, or crumbled bacon can add extra flavor and dimension to your dish.
Healthier Options:
Smoked salmon spreads are delicious but they do contain high amounts of fat and calories (especially if you're using high-fat options like cream cheese). If you want to make your own version without all the added fats and calories, consider substituting avocado instead of cream cheese (or even Greek yogurt). Alternatively, try adding chopped fresh herbs like dillweed instead of crumbled bacon or capers instead of anchovies (both of which are healthy options). And last but not least – choose whole grain breads or crackers over processed options whenever possible so you can enjoy all the nutrients that this healthy appetizer has to offer!
Pairing Your Appetizer With The Right Drink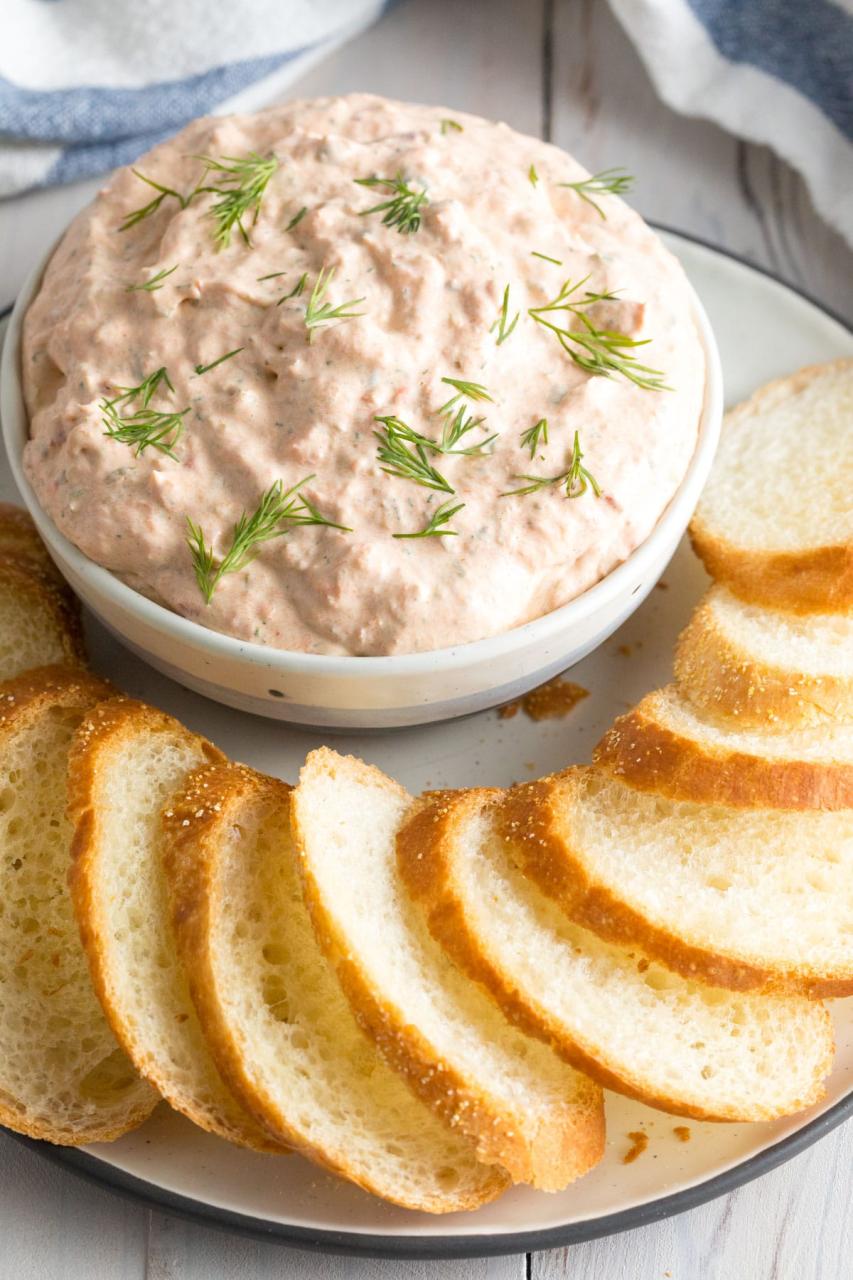 Making a smoked salmon spread is a fantastic way to elevate your appetizers. This simple and delicious dish can be complemented with any drink – be it wine, beer, or cocktails. In this section, we will outline the steps necessary for preparing a delicious smoked salmon spread and provide suggestions for drinks that are perfect to pair with it.
First, you will need to gather all of the ingredients you will need for the spread. These include: smoked salmon, salt, pepper, lemon juice, olive oil or butter (for greasing), bread crumbs (for coating), and parsley (for garnish).Once you have all of the ingredients assembled, it's time to get cooking! To make the spread, first Preheat your oven to 350 degrees F (175 degrees C). Then cut strips of smoked salmon from the center of a loaf of bread and coat them in bread crumbs. Place them on a baking sheet and bake until golden brown – about 15 minutes.
While the salmon is baking, prepare your lemon juice mixture by mixing together 3 tablespoons freshly squeezed lemon juice with 1 teaspoon salt and 1/4 teaspoon black pepper. Once the salmon is done baking, remove it from the oven and let it cool slightly before serving on plates with your lemon juice mixture spooned overtop. Enjoy!
For additional flavor options or presentation purposes, consider adding herbs such as dill weed or tarragon to your smoked salmon spreads. Additionally, spiced up versions such as ginger-tinged or chili-infused spreads are also popular choices among appetizer lovers. For those looking for something more alcoholic than wine or beer can enjoy cocktails such as martinis or Manhattans paired with this dish. Remember that quantity matters when pairing drinks with appetizers – too much alcohol can overpower delicate flavors in foods like smoked salmon spreads. Finally remember that garnishes such as olives, capers, pickled vegetables, etcetera add extra flavor depth and visual appeal to any dish – try incorporating some into your next batch of smoked salmon spreads!