Try this Bright and Cheesy Parsley Parmesan Lemon Pasta dish for a delicious, easy dinner
Simple and easy recipes are my type of thing, especially after a long day of activities. And there is nothing better than a good bowl of pasta at the end of the day. Or for breakfast…or for lunch too! I think I just love pasta and this recipe is on top of my list!
Cook Eat Delicious Rating: This pasta is light and refreshing. Almost all of the ingredients you probably have right now in your kitchen. Just throw it all together and voila! You have got yourself a complete meal, just add a side salad and maybe some bread and you are good to go. You can even add more veggies or herbs so let me know your favorite toss up pasta.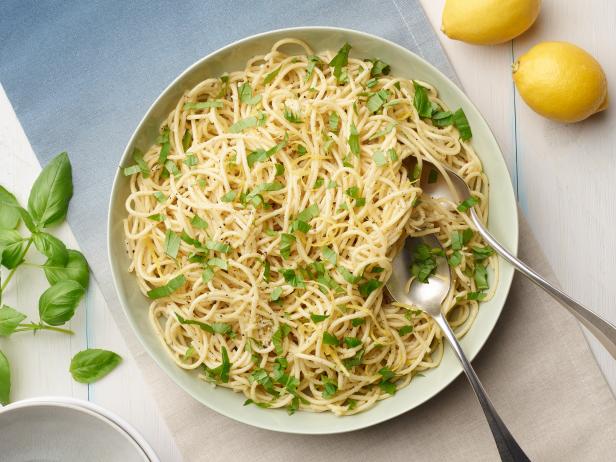 Parsley Parmesan Lemon Pasta
This Bright and Cheesy Parsley Parmesan Lemon Pasta dish is the perfect way to satisfy your cravings. We will provide you with the ingredients you need, instructions for cooking the pasta, and tips for preparing the Parsley Parmesan Lemon sauce.
Ingredients
1

box

Penne pasta

2

tbsp

butter

1

tbsp

olive oil

4

cloves

garlic

minced

2-3

green onions

sliced

Half a lemon

Handful of Parsley

chopped

½

cup

of parmesan cheese

grated
Instructions
Boil pasta and drain.

In a pan, heat butter and olive oil over medium heat.

Add in garlic and cook for 1 minutes.

Add in green onions and cook for 30 seconds.

Add in pasta and coat well.

Squeeze the lemon juice over the pasta and toss with parsley and cheese.

Serve with additional parsley and cheese.
Notes
Making A Delicious And Flavorful Pasta Dish Doesn't Have To Be A Difficult Task! With The Right Ingredients, Some Simple Instructions, And A Bit Of Creativity In The Presentation, You Can Easily Make A Tasty Meal That Is Sure To Please. Whether You're Looking For Something Easy To Whip Up On Weeknights Or An Impressive Dish To Make For Dinner Parties, This Parsley Parmesan Lemon Pasta Is Sure To Hit The Spot! So Give It A Try And See What Amazing Creations You Can Come Up With. Bon Appétit!
Nutrition
Serving:
1
serving
Calories:
554
kcal
Carbohydrates:
86
g
Protein:
20
g
Fat:
14
g
Saturated Fat:
6
g
Polyunsaturated Fat:
1
g
Monounsaturated Fat:
5
g
Trans Fat:
0.2
g
Cholesterol:
24
mg
Sodium:
254
mg
Potassium:
293
mg
Fiber:
4
g
Sugar:
3
g
Vitamin A:
333
IU
Vitamin C:
2
mg
Calcium:
183
mg
Iron:
2
mg
Finishing Touches Toppings & Presentation Tips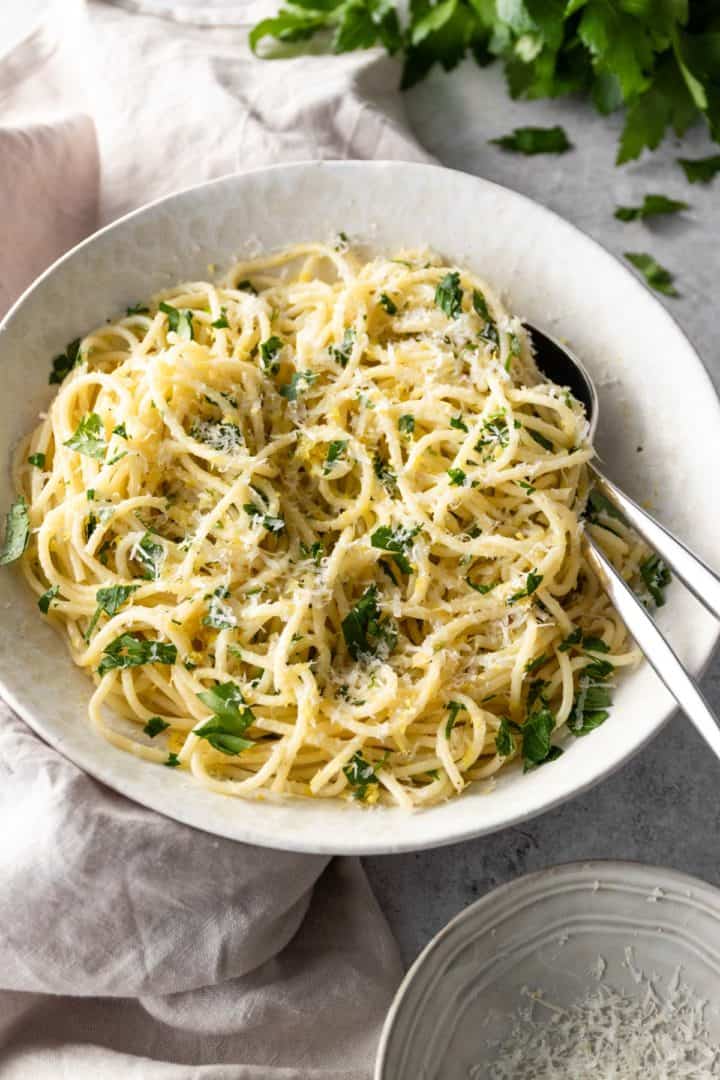 If you're looking for a delicious and easy pasta dish that will impress your guests, then you need to try cheesy parsley Parmesan lemon pasta. This recipe is simple to follow, and it doesn't require any special skills or tools. All you need is some good quality pasta, a sauce made from Parmesan cheese and lemon juice, and some toppings of your choice.
The ingredient list for this recipe is straightforward – just Parmesan cheese and lemon juice. However, the quantities required are flexible, as you can adjust them to suit your own taste preferences. Be sure to use a good quality Parmesan cheese – the taste of the dish will be greatly enhanced if you use a high-quality variety.
Once the sauce is prepared, it's time to cook the pasta. You can either cook it al dente according to package instructions or else prepare it in advance and refrigerate it until needed. It's also possible to freeze the pasta for later use – just be sure to thaw it before cooking it. When everything is ready, assemble the dish by cooking the pasta in boiling water until tender but still firm (about 8 minutes). Then drain it well and add it to the sauce along with any desired toppings such as chopped parsley or grated Parmesan cheese. Finally, give your dish a final stir before serving up warm or cold garnished with fresh lemon slices or crumbled blue cheese dressing. Enjoy!
FAQs about the Parsley Parmesan Lemon Sauce
1. What is the Parsley Parmesan Lemon Sauce?
The Parsley Parmesan Lemon Sauce is a creamy, flavorful sauce that is perfect for dressing up your favorite dishes. It is made with fresh parsley, Parmesan cheese, and lemon juice, and is a versatile sauce that can be used on a variety of foods.
2. How do I use the Parsley Parmesan Lemon Sauce?
The Parsley Parmesan Lemon Sauce is perfect for dressing up your favorite dishes. It can be used as a dipping sauce, a spread, or a topping. It is also great for adding flavor to pasta, rice, or vegetables.
3. What are some of the benefits of the Parsley Parmesan Lemon Sauce?
The Parsley Parmesan Lemon Sauce is a healthy and flavorful sauce that is low in calories and fat. It is also a good source of protein and calcium. Additionally, the sauce is rich in vitamins A and C, and is a good source of antioxidants.
4. Where can I buy the Parsley Parmesan Lemon Sauce?
The Parsley Parmesan Lemon Sauce is available at most grocery stores and online retailers.